Looking back, we've been hosting chickens on the garden since the fall of 2008. Time to look back at the fun we've had. Here's what was posted by Elizabeth after she found a new home for the rooster in 2011.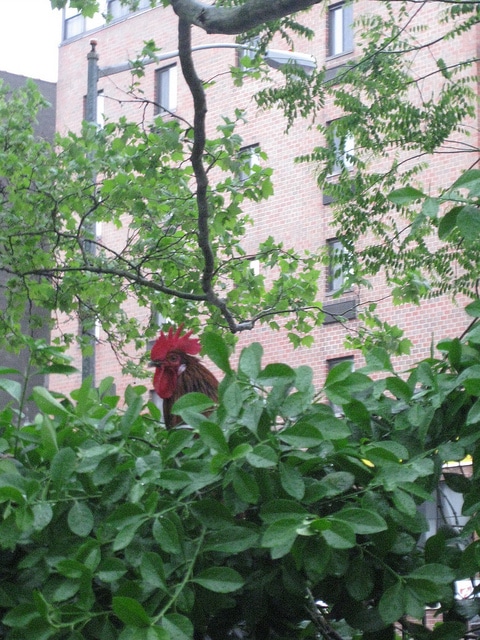 From: EH
Subject: The Rooster I call Chicken
Date: September 26, 2011 9:19:51 PM EDT
Hello everyone,
Please meet the fantastic Lady Farmer, Ms. Elizabeth Ryder from Ryder Organic Farms! She happens to have 25 chickens who were all hoping so hard a rooster would show up that one finally did – our gorgeous Rooster #2.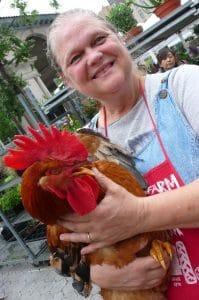 And we came to meet at the Union Square Market, where I just asked her if she wanted a rooster and she just answered, well, yes. Here he is in all his glory, and with Elizabeth Ryder holding him in her arms. She says her chickens are beautiful, and resemble his breed, so all are happy and visually coordinated. It seems that she kind of ended up with those chickens by accident, kind of like the MFK Garden way of having roosters. What a relief to have a home for our dear friend! We were both delighted and hugged and cried and a good time was had by all including the photo oppers snapping away. Below is a link to Elizabeth's farm and I hope you will all be sure to stop by her stand at U SQ Market on Saturday to buy some of her absolutely radiantly healthy produce to take home.
Many many grateful thanks, Elizabeth, for taking in our beloved friend ! I will be sending you a care package and some info, and I look forward to coming for a visit soon !
http://www.ryderfarmorganic.com/
Love from,
EH
Please follow and like us: