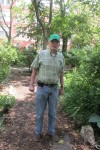 We mourn the loss of a true friend: generous, funny, self-effacing, and kind. He had tremendous integrity. Old school. "Bowery Pete" "His father called him Skeezix" From Jane Barrer Co-President of M'Finda Kalunga Community Garden:
"Dear Gardeners:
I am sorry to tell you that we lost our friend and gardener Pete Lambert early this morning. Pete passed away shortly after midnight at Beth Israel.
…We will all miss him.
Rest in peace, Pete."